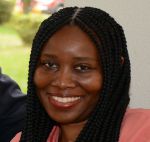 Prof. Ama de-Graft Aikins, a Professor in Social Psychology at the Regional Institute for Population Studies (RIPS) who is also a British Academy Global Professor at the Institute of Advanced Studies (IAS), University College London, presented an inaugural lecture on May 27, 2021 at the Ghana Academy of Arts and Sciences (GAAS).

The inaugural lecture, titled Laughing, Singing and Dancing for Health: Creative Arts and the Science of Health Communication in Ghana, assessed the role of creative arts in health communication in Ghana, drawing on research conducted during the height of the COVID-19 pandemic. Prof. Aikins was inducted as a Fellow into the GAAS in 2016.
Click on the link below to read the newspaper article about the lecture.